First things first
I'm starting these articles to help writers be more efficient and keep their work safe. These articles aren't about the craft of writing, they'll address the technology we use to write. And how to master that technology.
Making the hard stuff easier
I've got a lot of experience optimizing complex tools so they are easier to use. I'm not a UX Designer, or programmer. My skill set isn't deep in any one area, except the wider area of tying all those silos together. I've spent two decades sitting between artists, designers, and programmers. My job roles and strengths have been to empathize with individuals and teams and help them get the job done.
When I was a Technical Art Director working in video game development, I specialized in learning and applying UX principles, and theories to the internal (and often complex) tools artists used to make their assets into game objects.
I've got a knack for figuring out technology and explaining it to non technical users.
Inventing on Principle
Bret Victor's amazing talk from several years ago really impacted me, and set me on a journey.
I had been already tinkering with the idea of using a Guiding Principle, but this talk was a double whammy, as the Guiding Principle he set for himself was so close to my heart. It was not necessarily the one I would set for myself, but it really resonated with me.
Mr. Victor said "Bringing ideas into the world is one of the most important things people do". I agree. Ironically a friend and I almost started a podcast called Ideas Don't Die, but well, I guess we let that one die. Oops.
Anyway, he went on to discuss his ultimate guiding principle:
Creators need an immediate connection to what they create.
I took this to heart in the workplace. At that video game development studio, our internal tools were amazingly powerful. They were unparalleled in regards to horsepower and technical prowess for making the kinds of games we were making at the time. We were 5 years ahead of the competition.
The problem was that they were incredibly unfriendly to use. We're talking about a 2 month learning curve for a new hire. In one use case, a process we needed to run many times a day would take 6 minutes, on average, and fail 33% of the time (with no warnings or errors).
That's tough. Compounded with the fact that this process called "exporting" was the manually triggered step an artist would use before he or she could see their work in the complete context of the game.
There was no immediate connection to what they were creating.
As a writer, could you imagine waiting six minutes for the letters to form words in your notebook or on your computer screen?
By applying UX principles and a lot of hard work the team I lead took that 6 minute process down to less than one. And the failure rate went down to less than 10% as well.
What if?
About a year ago, I was having separate conversations with two writers I know. One a novelist, the other a Content Strategist. They we're both discussing how little they knew about the computers they had, and how they didn't back up their work.
I was really taken aback by this. The words they write are their livelihood, why leave that to chance?
What if the battery died before you saved?
What if your hard drive dies?
What if your internet connection craps out before Medium/iCloud/Dropbox/Whatever autosaves?
What if any number of potential catastrophes happen?
What if?
I told them that don't like to live my life with fear front of mind, but you have to take care of your stuff!
They didn't understand the options, ease of use and cost savings I did at the time. I'm not any smarter than they are, we just have differing experiences. I encouraged them to take the first step. Just to get something, as something is better than nothing.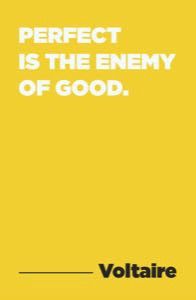 Voltaire's famous quote.
One lost
USB

stick away from ruin

In one episode of the Podcast Unattended Consequences, the novelist Pat Rothfuss ("The Name of the Wind") explained to his friend and game developer Max Temkin (Cards Against Humanity) how he nearly lost his only copy of his draft of his unreleased third novel "The Doors of Stone".

A very emotional exchange followed. Pat has been working on this novel for years, and Max obviously new the importance of that effort. Max got Pat to get his work backed up, pretty much right on the Podcast, while they were recording.

Like how Max took care of Pat's problem, I showed those friends Time Machine and other backup solutions. They were receptive, and got their backups working cheaply and easily.

I thought how can I help other writers solve these kinds of problems?

Hence the articles.
Pain points
Please let me know your thoughts on all this, and where your pain points are. Do you know how to use Time Machine? Have you heard of Text Expansion? 321 Backup? Clipboard Managers? Do you know the pros and cons of "The Cloud"? Have you lost work?
These are the problems I am hoping to solve. I can't teach the craft of writing, but I can show writers how to be better and safer. Let me know how I can help. Leave a comment or email me.